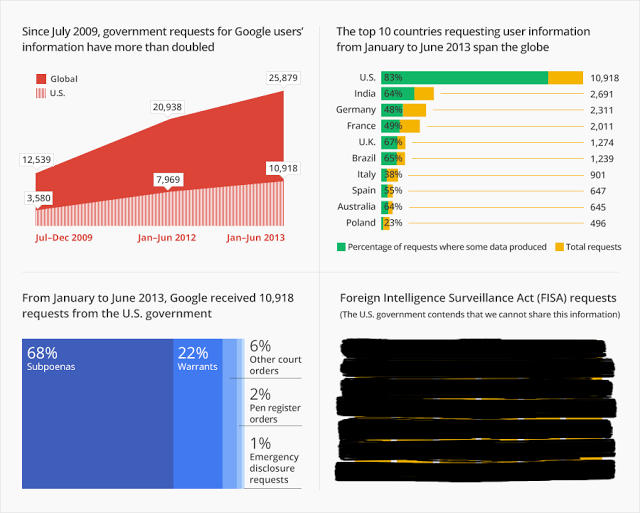 This result from Cisco is the first quantifiable impact I've seen of the NSA revelations.
Originally shared by Thomas Baekdal
Cisco to NSA: F*ck you!
If you still wonder about how much damage the NSA is causing to  the United States, not only as the advocate of freedom and human rights but also to US-based businesses, … this should tell you:
Today, Cisco came out with their quarterly financial report. They expected to grow, but because of NSA's actions they experienced a dramatic drop:
"Cisco has seen a huge drop-off in demand for its hardware in emerging markets, which the company blames on fears about the NSA using American hardware to spy on the rest of the world."
"Analysts had expected Cisco's business in emerging markets to increase 6%, but instead it dropped 12%, sending shares of Cisco plunging 10% in after-hours trading."
"Cisco saw orders in Brazil drop 25% and Russia drop 30%."
"Cisco chief executive John Chambers said on the company's earnings call that he believes other American technology companies will be similarly affected"
~via http://goo.gl/kSce7q
How is that for national security?
I just hope it won't affect Cisco's employees… because people just love losing their job.
This follows how, yesterday, Google absolutely hammered NSA for their damaging behavior: http://goo.gl/T8HP8g
And on top of this, the NSA is hurting the internet itself. For years, the internet has become more global. People were starting to think of themselves as part of global community. We no longer distinguished between where people lived, only how they acted.
But because of NSA, we have been thrown back to the old version of the internet. And people are now starting to discuss the 'balkanization of the internet', in which the internet is divided up into country specific zones. 
In other words. The NSA is not only hurting US national security and national interests, but they are also the greatest threat to our common global community.
Through their actions, they are forcing our world apart, when we should come together.
NSA, you have caused more harm to the US than any terrorist could ever hope to achieve.